I am opening up my blog today to accept your special prayer requests.
I believe so much in the power of prayer and how interceding for others can really storm heaven with our specific requests, that I would like to pray for each and every one's special prayer requests this week.
As it is written:


"

For where two or three come together in my name, there am I with them."

Matthew 18:20

Just last week I asked special friends and community brothers and sisters to join me in praying for my auntie Mercy who is very sick with leukemia. My auntie has surrendered her body and spirit to the Lord already and has refused any further treatments and medications. Of course we were all deeply affected by this and saddened by the possibility of losing her to the sickness. But it also gave us a reason to help her in fighting the battle in the spritiual realm, by declaring in faith her healing. It meant a whole lot to me and my family that so many people are thinking of her and are praying for her to be given an extended lease on her life. I wish to be able to give back in this aspect to help others in prayer for their specific needs as well.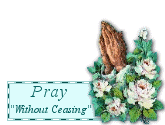 Just post your prayer requests in the comments section or email me

here

. Please add your name to the linky list if you want me to pray for your concern, AND leave me a comment if you decided that you to just email your prayer request. I promise that every prayer request will be treated with confidetiality.

I'd also like to ask each of you to pray for whose ever request is up. Even if the person didn't leave a specific one, just lift him or her up in your prayers.


Please continue to pray for my auntie Mercy.
As we gather in His name, let us all pray for each other's concerns. Thank you.