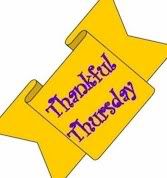 What
CHRIXEAN
is thankful for this week


Time for myself. My dear hubby treated me to a wonderful foot pampering at my favorite Tips N' Toes place. It was the only day when I could just kick off my shoes, sink into an ultra-soft lounge chair, and doze off without any worries.
Time for Keira and Nicky. Tuesday was a national holiday here, which meant no work for me and no school for Nicky. We spent the day at home together, and I was able to pour my energy into spending time with the kids without work to distract me.
Time to cook. Because of the holiday, I was able to set aside time to prepare one of my hubby's favorite dishes -- my tuna cream pasta.

Time to blog. This week has been really, really hectic. I've gone back to work (but mostly just doing my computer / desk jobs) and I've had to do a lot of catching up. This, in between taking care of Keira, has kept my schedules full.
Click here for the Thankful Thursday code
Click here for Chrixean's blog



Trackbacks, pings, and comment links are accepted and encouraged!


View More Thankful Thursday Participants