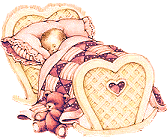 Somehow I am having more difficulty thinking up names for a baby girl than when I was making my list for my son Nicky. I guess a major reason I can think of right now is that the nickname Nicky was already chosen way ahead of time, regardless of whether the baby turned out to be a boy or girl. The full name was to be Dominique Victoria if it was a girl, and Nicholas Keith if it came out to be a boy. Well, the result was the latter and so he was awarded the nickname Nicky. This time I could no longer use the named Dominique Victoria for two reasons:
1) With Dominique I would really want her name to be Nikki too, which would really upset my son. So forget it.


2) My soon-to-be nephew (

my cousin's wife is pregnant also

) is a boy and they've decided to call him Dominic. Victoria could have stayed... but it just seemed to work perfectly in our minds with Dominique that we decided to just scrap it altogether (

my, my, aren't we the difficult couple?)
So, I had to come up with a whole new loooooong list of name possibilities (

with their origins and meanings taken into very careful consideration

). Right now I am down to 2 name combinations (

hopefully these are the last to chose from

). Allan and I like both, actually. I still couldn't decide which would sound nice together so I was hoping you guys could give me your thoughts about the names, and maybe help me decide which to finally go with (

maybe meaning I will consider your choice, but no commitments that I will actually go with it, hehe

).
Keira

-

Origin

: Celtic

Meaning

: Dark-haired


Caitlyn

-

Origin

: Celtic

Meaning

: Pure beauty


Kirsten

-

Origin

: Greek / Old English

Meaning

: Holy / The annointed one


Soleil

-

Origin

: French

Meaning

: Sun