Hey everyone! So sorry that my post is yet another Thankful Thursday. I have a lot on my plate right now, and I am having more and more difficulty blogging at this time due to work and preparations for Keira's big arrival (she's expected in 2 weeks!). But I make it a point to not forget to be thankful still for all the wonderful blessings that come my way, so here are my thankfuls for the week....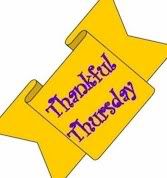 What
CHRIXEAN
is thankful for this week
More love "showered" on me and Keira!
Jennie surprised me with this really cute "Star Baby" shower party. I was shocked, because of all the baby showers I've had recently, this was planned in secret really well. Thanks of course once again to my hubby, Allan, who by now has mastered the art of hiding these baby celebrations. I thought all along that I was going to help plan a surprise party for Jen's hubby, Rein! You should've seen the look on my face when I walked into Jen's house and saw big bright flowers, a milkyway of stars and a clothesline of pink baby clothing hanging across the room. My first thought was -- why in the world will Rein like this decor? Hahaha! Of course, then only did it hit me that it was actually a party for me! And it was a really great one, too! I loved the decor (

thanks so much to Jen, Rein and Me-an!

) so much that I brought them home and stuck them to Keira's wall! The food was great -- (

oh my, oh my, you guys should try those creamy cheesy colorful sandwiches Ria makes. Mmmmmm!

), and the cake was gorgeous (

I felt so bad that I had to eat it at one point

)! It was another memorable day for Keira and me, and again I feel so, so blessed to have such wonderful, caring and thoughtful friends. Thank you so much Jen and Rein for planning this day really well and for allowing us to mess up their lovely house in the process! Thanks also for all the great gifts for Keira, ninang! The clothesline was a great idea (

and made for fantastic decor for the party!

). Thanks to Me-an (

I'm sorry, but the unicorn dolly is MINE! hehe

) and Gigi (

perfect scrapbook color choice!

) for coming all the way to this side of town to be a part of the party! Thanks to Patty, Miren, Bianca and Niña, who adopted me and made me one of their siblings (

I loved all the baby stuff... glad that we also have the same tastes too, hehe

). Thanks everyone!!! Now all I have to do is sit back, relax (

I wished...

), and wait for Keira... :D
Isn't this a wonderful photo? Pretty maidens, yummy food under pink layette and a starry background!
A new take on the "guess-my-waistline" game. These creative ladies got carried away and created some really flashy belts.
Under the laundry line. Jen and the supposed "surprised" birthday boy Rein (so sorry the Sammy surprise didn't happen...)
Click here for the Thankful Thursday code
Click here for Chrixean's blog
Trackbacks, pings, and comment links are accepted and encouraged!
View More Thankful Thursday Participants