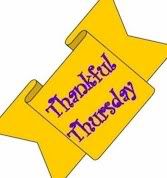 What
CHRIXEAN
is thankful for this week


* Nicky is well and healthy. He's been down under the weather since last Friday, and we've been concerned because he just recently recovered from a bad cold and a fever. I'm thinking it might be because his classroom is closed and airconditioned, so when one kid gets a cough and a cold, it's much easier for the virus to be passed on. Good thing he was given an ok sign by his pediatrician this morning when we brought him for a check-up, and was given supplements and vitamins to boost his appetite and to increase his body resistance.

* I've met several design deadlines before I gave birth. Early this month, my biggest worry was not being able to deliver most of my ongoing projects' deadlines thinking that I might not make it to Keira's arrival date. But I guess I should really leave it up to God to decide what should get done on time and when I should bring Keira into the world. With the help of my office team, I was able to submit all my projects on time, and I actually now have time to accept new projects while waiting for labor.

* Dinner with friends. I recently had dinner with my really great friend Jennie G, and I was so happy to have spent time with her after a long while of not having a girls nightout. When I wasn't pregnant yet, I used to go out with her on dinner dates or for coffee chats at least twice a week, just to relax, have a good laugh and to swap gal stories. So it was quite a change for both of us when I got prego and had to cut down on the late night outs and the coffee meets, and just settle for text exchanges to keep us updated on stuff. Tomorrow I will be having dinner with my friends Bien and Jerome, who are in town for a visit. I haven't seen them in almost 4 months, so I am quite excited to have this time to spend with them too.

What are you thankful for? I bet there are a lot that you can think of! If you want to join Thankful Thursday, just email me or leave a comment, and I will add you to the weekly list and to the TTh blogroll :-)
Click here for the Thankful Thursday code
Click here for Chrixean's blog



Trackbacks, pings, and comment links are accepted and encouraged!


View More Thankful Thursday Participants