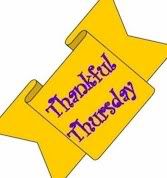 What
CHRIXEAN
is thankful for this week


Less pain on my back and sides which meant better sleep. It's either the baby has descended slightly, or my body has gotten used to the pain. Whichever the reason, as long as I get enough sleep, I'm happy :-)


My newly hired designer. I know I was thankful about this same thing several TThs ago, but that designer resigned. So I'm thankful for this new one I got to assist me in my work. Seeing that I only have days to count before I give birth, having someone to do the work I will be leaving behind is a blessing.


Good health. I am so happy that I made it to my ninth month healthy and strong. God has indeed granted this specific prayer. I continue to pray that my labor and delivery will be complication-free and that Keira would come out a healthy little baby.
Click here for the Thankful Thursday code
Click here for Chrixean's blog



Trackbacks, pings, and comment links are accepted and encouraged!


View More Thankful Thursday Participants