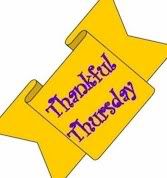 What
CHRIXEAN
is thankful for this week
For all the prayers I received from friends, family and bloggers, and for the time the Lord has granted me to spend time with my Aunt Mercy.
My Aunt Mercy passed away yesterday morning after 4 years of battling breast cancer and 4 months of battling the aggressive stages of leukemia and bone cancer. It has been a difficult past few months for me and my entire family. To watch a very dear family member wither away in front of your very eyes, to watch her struggle to live, to watch her family put up a strong front in the midst of sadness and fear, and to watch each one surrender her fate to the Giver of Life. It has been quite stressful for me especially, being pregnant and having to go through another death after just a few months of dealing with the passing of my Aunt Minerva. Through it all, I hung on to prayer for strength and renewal of faith. I had to re-learn the realities of the life we lived on this planet -- accepting that all things are temporary in this life and learning to let go, believing that there is indeed a better life for all those who have left us here. I say "re-learn" because these are things that we already know and believe in because the Bible has taught us about it. It just becomes more difficult to apply when these situations happen to you and your immediate family. So to all of you who have been praying for my family and my Aunt Mercy's help from the very beginning, thank you.
BTW, please visit all our other Thankful Thursday participants listed below and on our TTh blogroll. We've added quite a number of people to the list recently and it would be great to add them to your list of frequented sites as well!


Click here for the Thankful Thursday code
Click here for Chrixean's blog



Trackbacks, pings, and comment links are accepted and encouraged!


View More Thankful Thursday Participants