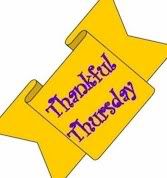 What

CHRIXEAN

is thankful for this week
•

For winning 3rd place in the Parent-Child Book-Making Contest!

Woohoo!!! Of course, I would have preferred 1st place, but then..... hehehe. To read more about this contest and how our entry looked like, click

here

.


•
For waking up after a good night's rest

. Sleep is very difficult to enjoy lately due to Keira's heavy weight. To actually sleep a straight 8 hours with a just a few bathroom breaks in between is already a reason for me to celebrate.
•

For the wonderful Saturday night I had

. I met up with my old college buddies who I haven't seen altogether for 11 years, and I had the time of my life! I ended up laughing for a whole 5 hours straight, just recalling all the crazy college stories being thrown across the table. The past weeks have been very hectic for me in terms of work and preparations for the baby's room, that this was truly a much needed break.
Click here for the Thankful Thursday code
Click here for Chrixean's blog



Trackbacks, pings, and comment links are accepted and encouraged!


View More Thankful Thursday Participants