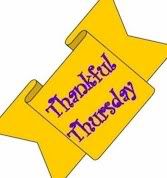 What
CHRIXEAN
is thankful for this week
For feeling slightly better after a week of having a bad cold

. Thanks to antihistamines, lots of juice, my husband's TLC, and of course, papa God's healing touch.
For God's provision in the preparation of the kids' new room

. Was finally able to set-up the kids' room to make space for Keira's arrival. Because Nicky had SOOOOO much stuff that we needed to store and because he had outgrown his toddler bed, we managed to build a custom-made adult-sized bed which could store all his toy cars, dinosaurs, trains and tractors underneath it for less than half the prize of one that we could have bought in a department store. With the money saved, we were able to buy Nicky and the baby brand new cabinets and book shelves, Keira's crib, beddings, toiletries and other immediate baby necessities, and additional storage boxes. I am so happy that Nicky was so cooperative and was so willing to share his room with Keira. His excitement and enthusiasm when we were setting up the spaces gave me the extra energy boost i needed to make sure the task was done well.
I forgot to post this picture last week. It was the awarding ceremony for our win in the Parent-Child Book Making Competition.



Nicky and I are shown here (

I am the whale in the middle wearing pink, hehe

) together with the other book winners (moms and kids on the right) and the gradeschool heads. One of the women in the photo (

2nd from left

) who is currently the gradeschool principal, was my old prep teacher from the same school! Boy, was she proud to show me and my son off to her fellow teachers. :-)
Click here for the Thankful Thursday code
Click here for Chrixean's blog



Trackbacks, pings, and comment links are accepted and encouraged!


View More Thankful Thursday Participants