It's Halloween and All Soul's Day, and I personally think my soul needs a break as well.
I haven't been getting a lot of
due to Keira's crazy sleep schedule.
I've been swamped with tons of project deadlines, too!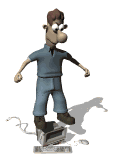 Which got me really

yesterday!
So today, since it's a holiday, my family and I are checking in at a hotel to get rest.
My body and spirit definitely need this break.
Otherwise, I will end up
HAPPY HAUNTING!