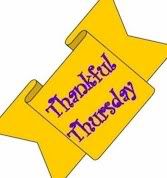 What
CHRIXEAN
is thankful for this week

I am thankful for all my blogging friends who've been patient enough to visit my site every so often despite my erratic postings. I know my blog hasn't been as exciting and as story-filled as before, but time is the enemy here and I really need to get my schedules fixed first before I can get back to serious blogging. I may have to take a blogging leave for a week or two, just to allow myself to finish up on work and shopping errands, and to close the office for the Christmas break to allow myself some family time and quality hours with the kids. So to everyone, goodbye for now. See you guys hopefully in two weeks!


FROM ME AND MY FAMILY, MERRY CHRISTMAS Y'ALL!!! :-)
"Bye! Bye! See you in a few weeks! See you in.... CLICK! what the.....?"
Click here for the Thankful Thursday code
Click here for Chrixean's blog



Trackbacks, pings, and comment links are accepted and encouraged!


View More Thankful Thursday Participants